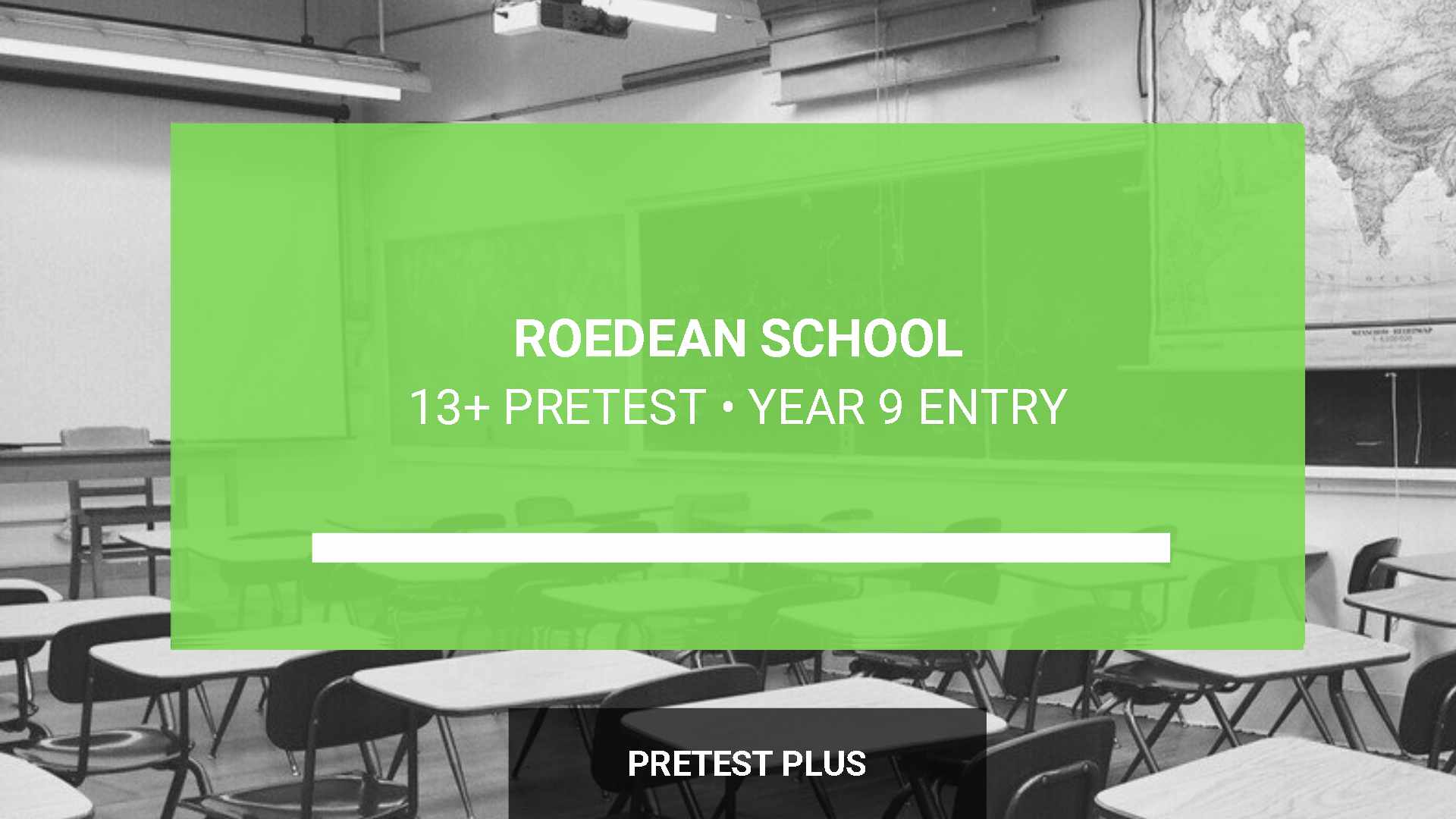 Roedean School 13 Plus (13+) Pretest Practice Tests (and Courses)
Bookmark this page? Pop your email into the box below to receive a link to this article so you can easily refer back to it later.
Introduction
Founded in 1885, Roedean School is an independent day and boarding school for girls in East Sussex. Its campus has a spectacular view over Brighton Marina and the English Channel, with a private tunnel down to the beach. Roedean School accepts girls from the ages of 11 to 18 and has approximately 600 students in total.
For an insight into academic life at Roedean School, take a look at this promotional video:
How to Apply for 13 Plus Entry to Roedean School
Parents who want to register their daughter for Year 9 entry at Roedean School are encouraged to visit the school during its Open Day, or as an individual tour. In both instances, the tour will be guided by a pupil of roughly the same age as the candidate. These visits can be booked by contacting the Head of Admissions at [email protected], or by telephone on 01273 667626.
Once registration is complete, the school will provide updates on entry exams and other events that might be of interest. The school's registration form can be downloaded here.
Roedean School 13 Plus Pretest Assessment
Pupils applying to join Roedean School for Year 9 entry are able to take advantage of the pre-testing option. In this case, candidates are required to sit the online ISEB Common Pretest in  October or November of Year 6. These are age-standardised computer tests that measure cognitive ability, and they can be taken only once. The tests cover Verbal Reasoning, Non-Verbal Reasoning, English and Maths. The pre-test is taken at a candidate's prep school.
Roedean School Admissions Criteria
Conditional offers are made a few months after the pretest is taken. Successful candidates will have the opportunity to attend open mornings and taster days before the June deadline to reserve a place for Year 9 entry.
How to Prepare for the Roedean School Pretest for Year 9 Entry
Roedean School has a reputation for high academic standards and competition for places is high. It is therefore worthwhile to spend some time helping your daughter to prepare for the pre-test examination.
At Pretest Plus, we design practice tests and courses that are well suited to students who are preparing for the Roedean School ISEB Common Pretest. Our practice tests help familiarise students with the layout of the actual tests, and can help them identify the kind of questions that might come up in the real exam.
Our online tests and courses can also help identify pupils' strengths and weaknesses. With this information, students can focus their study where it is likely to be most effective. This will help ensure that preparation leading up to the examination is as efficient and effective as possible.
By sitting our pretest practice tests under exam conditions, students can also improve their time management skills. Through repetition of these tests, your child will get better at answering questions under pressure.
Each test covers all of the four subjects that come up in the real exam. These are Verbal Reasoning, Non-Verbal Reasoning, Maths and English. After each test, students are able to review their answers, accompanied by detailed explanations of each question. Statistical averages are also provided, which give an indication of a student's relative performance.
Roedean School 13+ Practice Tests and Courses
Practice Tests
You can learn more about our highly accurate online ISEB Pretest practice tests by clicking on the links below. These Practice Tests are available to take online immediately after purchase. Each module is marked automatically and is then available for review with answers and explanations provided for every question. We also provide comparative ranking statistics on a per module basis so you can quickly identify your child's strengths and weaknesses.
📈ISEB Pretest Practice Test 10
ISEB Pretest Practice Tests Bundle – Save 30%
Video Courses
We've also produced online video courses that cover everything your child needs to know for each section of the ISEB Pretest assessment. These video courses consist of a series of lessons that go through each question type in great detail, providing step-by-step explanations and techniques to help your child recognise the underlying patterns to look out for. They cover every possible question type that could come up in the ISEB Pretest.
🎥ISEB Pretest Non-Verbal Reasoning Course
🎥ISEB Pretest Verbal Reasoning Course
ISEB Pretest Video Courses Bundle – Save 25%
Skill Practice
📌ISEB Pretest English – Comprehension
📌ISEB Pretest English – Sentence Completion
📌ISEB Pretest English – Spelling & Punctuation
📌ISEB Pretest Non-Verbal Reasoning
📌ISEB Pretest Verbal Reasoning
ISEB Pretest Skill Practice Tests Bundle – Save 25%
Special Offer!
Don't forget to use the code ppdiscount at checkout to get 10% off orders over £80 and 20% off orders over £200!
The information in this post was correct at the time of publishing. However, please be aware of future changes. We advise you to contact the school directly if you are unsure of anything. School contact details are provided within the post.
Please note that Pretest Plus is an independent publisher of practice tests and not affiliated with or endorsed by the publishers of the ISEB Common Pre-test or any other Pre-test publisher.
Related Article:
The ISEB Common Pre-test: What You Need to Know
Bookmark this page? Pop your email into the box below to receive a link to this article so you can easily refer back to it later.