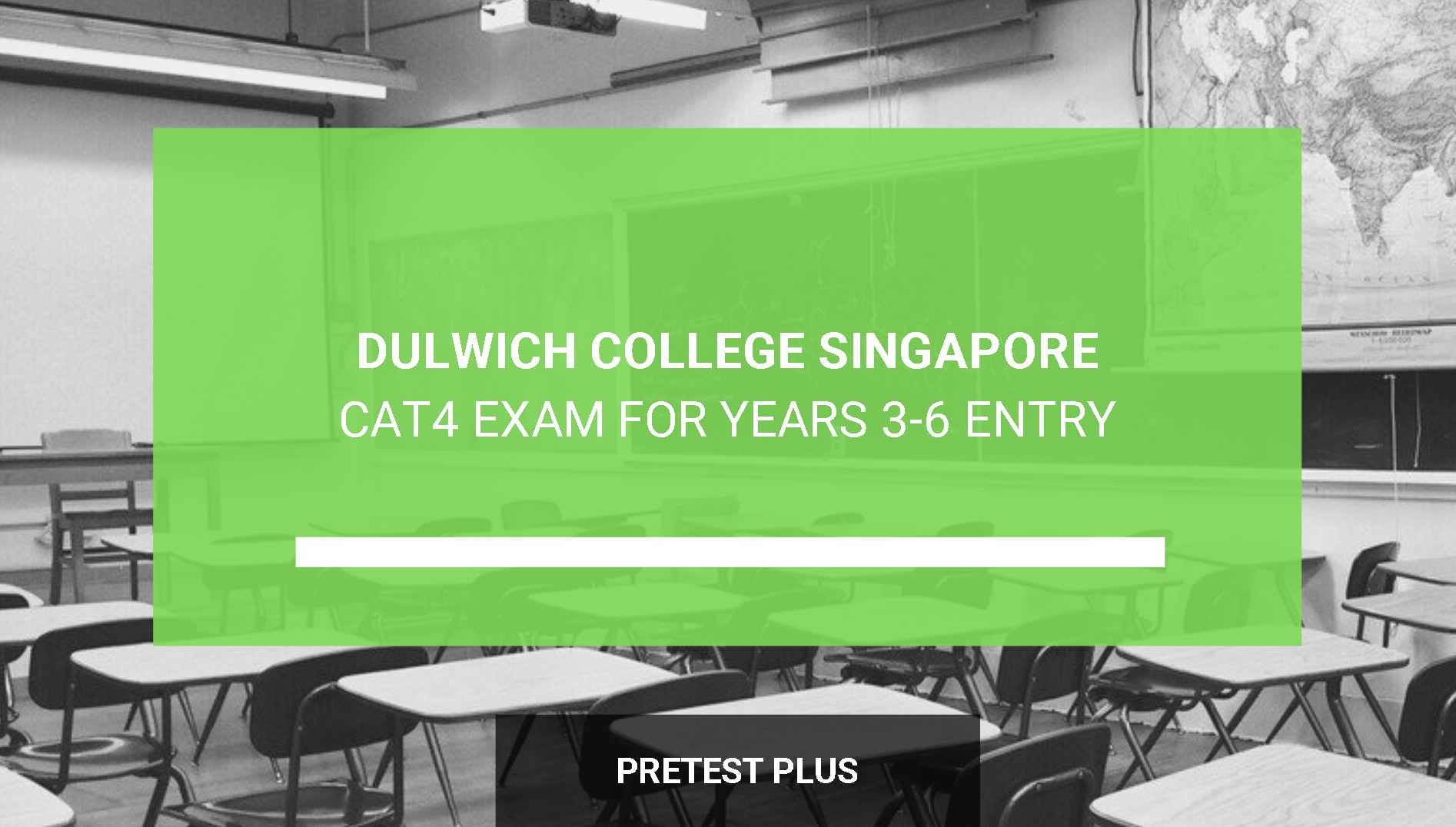 Dulwich College Singapore: Cognitive Abilities Test (CAT), Years 3-6 Entry
Introduction
Founded in 2014, Dulwich College Singapore is a coeducational international school and a branch of Dulwich College International. The school is academically selective and educates pupils aged from 2 to 18, offering a comprehensive study programme.
Its state-of-the-art campus includes a performing arts centre, a 742-seat theatre and music and art suites. Dulwich also has a variety of sports facilities including three swimming pools. The school aims to provide a holistic education and a variety of co-curricular activities.
For an insight into academic life at Dulwich College Singapore, watch this short promotional video:
How to Apply for Entry to Dulwich College Singapore
Before applying for a place at Dulwich College, parents and students are encouraged to visit the campus during one of the school's Open Days. Attendees will have the opportunity to tour the campus and meet members of staff and current pupils. Dulwich recommends that parents reserve a place on the Open Day by contacting [email protected] or calling +65 6890 1003.
To apply for a place in Year 3 to 6, parents need to complete the online application form and send all the required documentation. A non-refundable fee of $4,500 should also be paid at the time of application.
Dulwich College Singapore CAT4 Assessment: Years 3-6
Dulwich College Singapore uses a Cognitive Abilities Test (CAT) for entry to the Junior School (Years 3-6).The Cognitive Ability Test consists of the following topics:
– Verbal reasoning
– Quantitative reasoning
– Non-verbal reasoning
– Spatial Reasoning
– Writing assignment (lasts for 30 minutes)
Students are also required to send current and previous school reports. The test results and the school reports are reviewed by the school prior to a place being offered. For overseas candidates, the school advises that scores over 105 in each of the four tests will be considered for entry.
According to the school's Student Selection Policy, the decision to offer a place to a prospective student is taken by the individual Head of School.
Dulwich College Singapore Admissions Criteria
Dulwich College Singapore accepts applications throughout the year. Overseas students who want to enrol into the College must hold a foreign passport. The school's Admissions pages state that Singaporean citizens should review the Admissions Policy to determine whether they're eligible to apply for a place.
Admissions are determined based on student performance in the Cognitive Abilities Test and previous school reports. However, the Admissions Policy also states that the student's ability to succeed socially in the school's learning environment, their work ethic and overall behaviour are also considered.
The school expects parents to be supportive of their child's learning and to support the school's aims of serving a diverse population. Upon accepting a place at the school, students will be allocated an age-appropriate year group according to their date of birth. Exceptions are made only in extraordinary circumstances.
How to Prepare for the Dulwich College Singapore CAT4 Assessment
One of the most effective ways to prepare for the Cognitive Abilities Test is to use online practice tests, similar to those that will be administered on the day of the entrance exam. Practice tests help students to become familiar with the format and question types they will encounter in the actual test. They also provide an excellent opportunity for students to practice working under exam conditions.
At Pretest Plus, we publish practice CAT tests and courses to boost students' confidence ahead of the entrance exam. Our practice tests and courses are available immediately after purchase. They offer excellent practice and preparation for the Dulwich College Singapore CAT assessment. They cover all the required test areas and can be used to identify any weaker areas that require additional work ahead of the exam.
---
Dulwich College Singapore CAT4 Assessment Practice Tests
CAT4 Practice Tests
The following practice tests are specifically designed for CAT4 Levels A and B, which are taken in Years 4 and 5 for 9+ and 10+ entry, respectively. Each module is marked automatically and is then available for review with answers and explanations provided for every question. We also provide comparative ranking statistics on a per module basis so you can quickly identify your child's strengths and weaknesses.
9+ CAT4 PRACTICE TESTS
CAT4 – Level A – Practice Test 1
CAT4 – Level A – Practice Test 2
CAT4 – Level A – Practice Test 3
CAT4 – Level A – Practice Test 4
CAT4 – Level A – Practice Test 5
10+ CAT4 PRACTICE TESTS
CAT4 – Level B – Practice Test 1
CAT4 – Level B – Practice Test 2
CAT4 – Level B – Practice Test 3
CAT4 – Level B – Practice Test 4
CAT4 – Level B – Practice Test 5
CAT4 Video Courses
The following online video courses cover everything your child needs to know for each section of the CAT4 assessment. Each course consists of a series of lessons that go through each question type in great detail, providing step-by-step explanations and techniques to help your child recognise the underlying patterns to look out for. They cover every possible question type that could come up in the CAT4 test for Years 5 and 6 entry.
CAT4 Quantitative Reasoning Course
CAT4 Non-Verbal Reasoning Course
Special Offer!
Don't forget to use the code ppdiscount at checkout to get 10% off orders over £80 and 20% off orders over £200!
Related posts:
Year 7 CATs: Everything Parents Need to Know
The information in this post was correct at the time of publishing. However, please be aware of future changes. We advise you to contact the school directly if you are unsure of anything. School contact details are provided within the post.
Please note that Pretest Plus is an independent publisher of practice tests and not affiliated with Cogat, GL Assessment CAT4 or any other test publisher.